Jefferson Davis on a white horse
President-elect Jefferson Davis arrives at 10:00pm by train amid shouts from a large crowd in Montgomery, Alabama, from his plantation Brierfield near Vicksburg, Mississippi, to accept the call of the Southern people and be inaugurated to the Presidency of the Confederate States of America. Along the route, Davis

made twenty-five speeches, returning thanks for the complimentary greetings to the crowds assembled at the various depots where he was received with military escorts and salutes. A Congressional committee and Montgomery authorities meet President Davis about eight miles from Montgomery, and formally received him. Two fine military companies from Columbus, Georgia, had joined the escort at Opelika, Alabama. Davis thanks the large crowd at the depot for the hospitality of the citizens of Alabama. In a short speech, he briefly reviews the present position of the South and says the time for compromises has passed. "We are now determined to maintain our position and make all who oppose us smell Southern powder and feel the Southern steel," Davis says.

/1861
At 6am in San Antonio, Texas, the Commissioners of the Committee on Public Safety, representing the seceded Republic of Texas,

Thomas J. Devine, S. A. Maverick, and P. N. Luckett, demand the surrender of the US Arsenal at San Antonio even as "during the past night," according to the US Arsenal authorities, "the town of San Antonio had been invaded by armed bodies of Texans [(over 1,000 Texas militia)], who had seized the property of the United States."

US Brevet Major-General D.E. Twiggs

, after reading the demand for surrender, says he "gave up everything," but nothing official happens./1861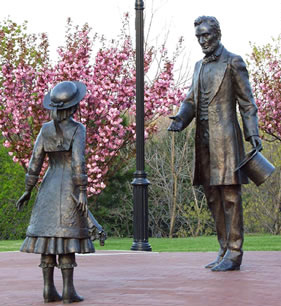 Lincoln and Grace Bedell, Westfield, NY
Even the anti-Republican Cleveland Plain Dealer "must confess to being most favorably impressed with both" Mr. and Mrs. Lincoln. The whistle-stop train trip from their home in Springfield, Illinois, to his inauguration in Washington has begun paying political dividends. Leaving Cleveland at 9:00 a.m., the presidential party has a packed travel day to Buffalo, New York. At Westfield, New York, Lincoln meets now twelve-year-old Grace Bedell, who had written to Presidential candidate Lincoln suggesting he grow a beard. Back during the campaign on October 15, 1860, the 11 year old Bedell had written Lincoln to suggest a way for him to get elected: "I have got 4 brothers and part of them will vote for you any way and if you let your whiskers grow I will try and get the rest of them to vote for you. You would look a great deal better for your face is so thin. All the ladies like whiskers and they would tease their husbands to vote for you and then you would be President."
Lincoln replied four days later: "As to the whiskers, having never worn any, do you not think people would call it a piece of silly affectation if I were to begin it now?" The silly affectation must have caught on for him, for today at Westfield, New York, Lincoln was sporting a beard.
The Philadelphia Enquirer reports what happened next and quotes Lincoln, "

Some three months ago, I received a letter from a young lady here; it was a very pretty letter, and she advised me to let my whiskers grow, as it would improve my personal appearance; acting partly upon her suggestion, I have done so; and now, if she is here, I would like to see her; . . . A small boy, mounted on a post, with his mouth and eyes both wide open, cried out, ``there she is, Mr. LINCOLN,'' pointing to a beautiful girl, with black eyes, who was blushing all over her fair face."

The President left the car, and the crowd making way for him, he reached her, and gave her several hearty kisses, and amid the yells of delight from the excited crowd, he bade her good-bye.
In Buffalo, former President Millard Fillmore greets his arrival at 4:30pm. The crowd of 10,000 is so dense and aggressive that the guest party is separated and Maj. David Hunter dislocates his shoulder while escorting Lincoln./1861